The Paint and Body Shop you can count on! Paint repair, Aluminum repair, Dent repair, and MORE! We also repair Hybrid and electric Vehicles!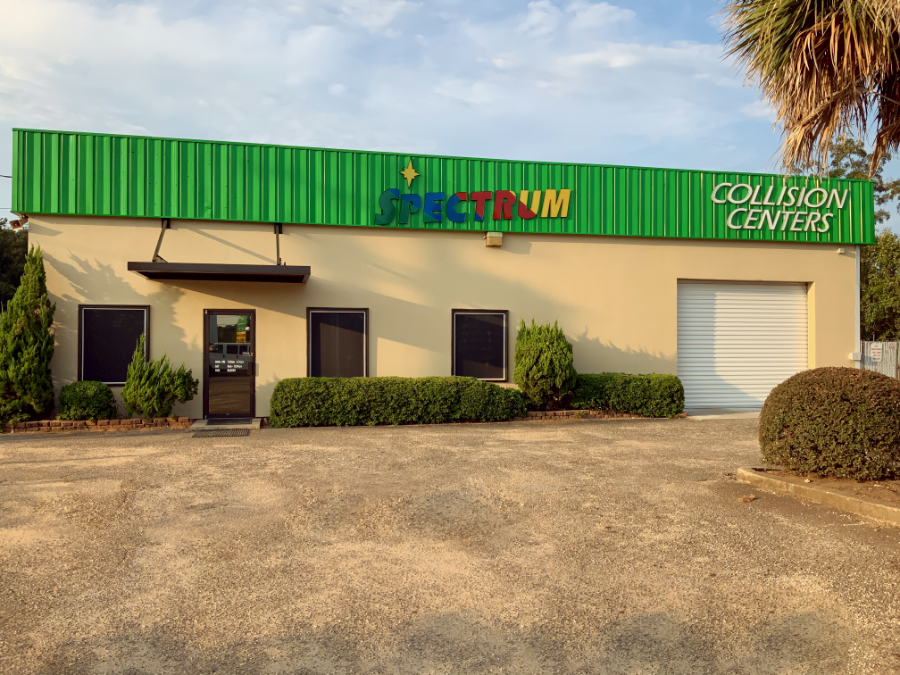 At Spectrum Collision, our customers are priority #1! Our mission is for our clients to be safe and happy on the road. We are the only shop in the Mobile, Alabama area that is equipped with a collision shop (Fiberglass, Aluminum & Steel Repairs), service department, & glass shop all in one location. Because we are all inclusive, you might view us similar to a dealership for all makes and models.
At Spectrum Collision Centers, we provide professional collision repairs in all areas of vehicle restoration, to bring your damaged vehicle back to factory specifications.
Big or small we repair it all! Hail damage or any sort of accident related damages, we have professional collision technicians capable of repairing all damages. Some small dings can be removed by paintless dent removal (PDR). Paintless dent repair causes minimal stress to the paint & body.
From a slight pin hole, to a massive dent, we repair it all! When that mailbox or fence post walks out in front of your car give us a call!
Front bumper or Rear bumper, we can do it! Do you keep hitting that annoying curb, or does your 16 year old son watch too many Fast and Furious movies!
Frame Repair or Unibody Repair
We take frame repairs very seriously! A poor frame or unibody repair could place your life in danger, and can affect the overall functionality of your vehicle.
We perform frame repairs by using state of the art technology
The frame or unibody is the structure of your car. Poor repairs can cause improper wear on your tires and affect the structural integrity of your vehicle. Potentially, it affects the fit and finish of your vehicle, & even impacts how your car behaves on the road.
We are an aluminum certified shop. We perform all of our aluminum repairs in a separate facility, using advanced equipment that is designed specifically for aluminum vehicles. We are the only repair facility in our area that utilizes a totally separate facility for aluminum repairs.
We provide the best car painting services in Mobile, AL. We use the highest quality paint products to ensure that our customer's vehicles are restored to original manufacturer standards. Many auto body repair facilities can over charge customers for paint jobs and neglect quality by using a low-grade product. Many auto body shops negatively impact the quality of your car due to improper prep procedures. Many shops will not remove items from the car before painting instead the items are taped. This is a simple procedure that can impact the quality of the paint job done on your vehicle.
At Spectrum Collision we use the highest quality paint products in the business. We use globally recognized paint materials
Why are our products so good?
We use water-based paint products by Sikkens (AKZO NOBEL) which are environmentally friendly and are warranted by the manufacturer. Sikkens is a globally recognized paint manufacturer, providing the highest quality in paint repairs and longevity.
Matching automotive paint in today's industry can be extremely complex without the knowledge and advanced technology to do so.
At Spectrum we use state of the art industry proven methods to match paint color.
Many collision shops have front office personnel who are only skilled at writing estimates. At Spectrum Collision the owner, David Kirby along with other experienced personnel, and associated managers have 30+ years of Collision Repair experience. The unique thing that sets us apart from other repair facilities, is all of our front office staff have countless years of actual paint and body technician experience. This experience enables them to perform all phases of the job, including writing you a proper estimate.
Why does this matter to you?
   A repair facility whose front office personnel are only capable of writing estimates can affect your repairs and the price you pay for that repair. At Spectrum, our staff is capable of seeing your repair through the entire process. This experience allows for better quality control through the entire process. The additional benefit of a one shop location is the on site capability to help with additional oversight and timeliness of your vehicle's repairs. The drawback to multiple location shops is the owners spend more time managing than customer service.
Proper equipment & training is essential in this day and time in the collision repair industry. Here is a list of a few of our specialized equipment we use that other shops may or may not have.
Plastic welding
Resistance spot welding – This allows us to put factory spot welds back on your automobile.
Silica Bronze Welding
3D dimensional measuring equipment
Computerized scanners
Heated downdraft paint booths for extremely quick drying times
Our aluminum shop contains all separate specialized tools for aluminum vehicles from welding equipment, aluminum pulling equipment (celete bench), specialized rivet guns, adhesives, vacuums, and hand tools that are not used in the steel department whatsoever to prevent cross-contamination.